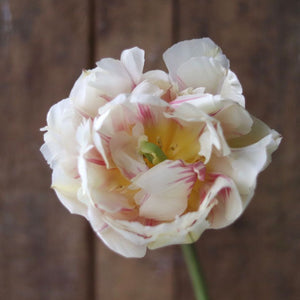 A tulip with an heir of antiquity, 'Flaming Margarita' is reminiscent of the tulips featured in 17th century Dutch still life paintings. Creamy white blooms open to reveal red streaking. This early bloomer is sure to put on a show in the garden or the vase. 
 Classification: Early double
 Height: 16" (40 cm)
 Exposure: Full sun
 Package contains 10 bulbs.
*Please note, this is a pre-sale. Quantities are subject to harvest availability. Shipping begins October 10, 2023.
**Autumn bulbs (tulips, daffodils, ranunculus, anemone) ship throughout Canada. Seeds ship throughout Canada and the US.