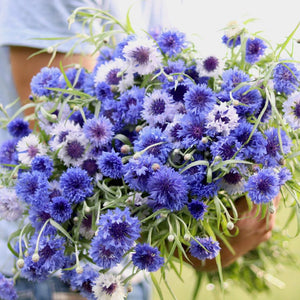 An old fashioned, cottage garden favourite in a range of blues. Bachelor's button produces delicate looking blooms on tall wispy stems. Combine this with an updated colour palette, and the entire effect is incredibly romantic. A favourite of pollinators. Beautiful in the garden and very useful in floral design. Also know as cornflower.
Plant type: annual  
Height: 30-36"
Planting depth: 1/4"
Exposure: full sun
Plant spacing: 9" 
Approx seeds per packet: 100
How to sow: 

Direct sowing is recommend as soon as soil can be worked in early spring, as plants do not transplant well. Pinching is not necessary.
Care:
Bachelor's button is an easy to grow annual. Blooms are edible and make a delightful garnish to salads and deserts. Harvest blooms just as they begin to open. 65-75 days to maturity.