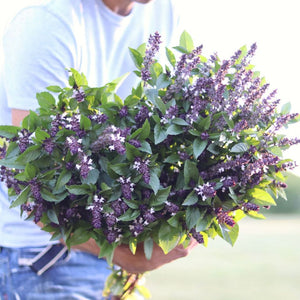 Beautiful and edible, basil is a delight for the senses. The lush, fragrant foliage of 'Cinnamon' makes a perfect addition to mid-summer bouquets. Whether it be for the kitchen, or floral design, nothing else epitomizes mid-summer magic in the garden quite like harvesting your own basil.
Plant type: annual  

Height: 24-30"
Planting depth: 1/4"
Exposure: full sun
Plant spacing: 9" 
Approx seeds per packet: 100
How to sow: 

Sow seeds indoors 4 to 6 weeks before last frost. Harden off seedlings and transplant outdoors after last frost. May also be direct sown after last frost. Pinching seedlings when 8" tall.
Care:
Basil is an easy to grow herb. Harvest stems in the coolest part of the day, as foliage has a tendency to wilt in the heat. Once conditioned, basil makes a long lasting bouquet filler. 65-70 days to maturity.