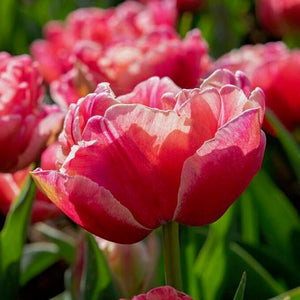 'Verona Sunrise' produces large, fully double blooms which resemble peonies. The unique colour palette spans various shades of pink, peach, and champagne. The petals are lightly ruffled, adding to the romantic charm of this tulip.       
Classification: Late double   

Height: 18" (45 cm)
Exposure: Full sun
Package contains 10 bulbs.
*Please note, this is a pre-sale. Quantities are subject to harvest availability. Shipping begins October 10, 2023.
**Autumn bulbs (tulips, daffodils, ranunculus, anemone) ship throughout Canada. Seeds ship throughout Canada and the US.