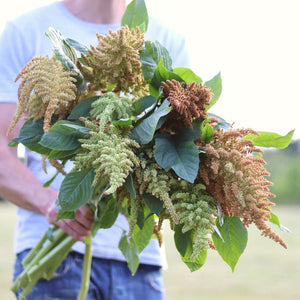 'Autumn's Touch' is a robust variety which produces branching, upright plumes in green and brown. Makes a beautiful backdrop toward the back of the garden border. An excellent cut flower. Will add colour and texture to the garden or floral arrangement.
Plant type: annual  
Height: 40-48"
Planting depth: surface sow 
Exposure: full sun 
Plant spacing: 12"      
Approx seeds per packet: 100
How to sow:
Sow seeds indoors 4-6 weeks before last frost. Barely cover seeds as light is required for germination. Harden off seedlings and transplant outdoors after last frost. Amaranthus can also be direct sown into the garden once all danger of frost has passed. Pinch when seedlings are 12" tall.
Care: 

Amaranthus prefers a site with full sun and well-draining soil. Tighter plant spacing at 3-6" will produce smaller, more manageable stems. Heat and drought tolerant. Can be used in fresh or dried floral arrangements. 65-75 days to maturity.