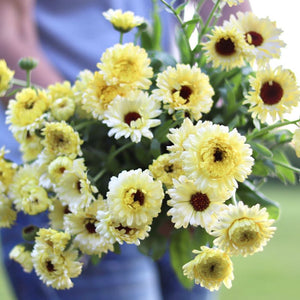 Calendula produces the most cheerful of summertime blooms. 'Ivory Princess' features buttercream petals with a charming dark centre. An easy to grow classic which is perfect for the beginning gardener. Beautiful in the garden and a wonderful addition to floral design.
Plant type: annual  

Height: 18-24"
Planting depth: 1/4"
Exposure: full sun
Plant spacing: 9" 
Approx seeds per packet: 100
How to sow: 

Direct sowing after all risk of frost has passed is recommend, as plants do not transplant well. Pinching is not necessary.
Care:
Calendula is easy to grow and tolerant of heat and drought. Petals are edible and make a delightful garnish to salads and deserts. Do not eat the flower centre. Harvest blooms when half way open. 55-60 days to maturity.