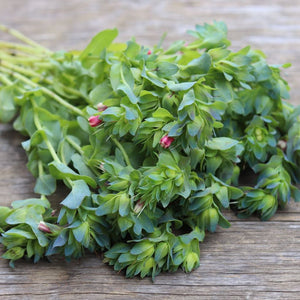 Also known as honeywort, cerinthe is an old fashioned favourite, popular in English cottage gardens. Purple blooms emerge from unique bracts flushed with blue. The foliage is an attractive grey-green. An excellent bouquet filler, and a favourite among pollinators.
Plant type: annual
Height: 24-30"
Planting depth: 1/4" 
Exposure: full sun 
Plant spacing: 9-12"      
Approx seeds per packet: 25
How to sow:
Direct sow as soon as soil can be worked. May also be sown indoors 4-6 weeks before last frost. Harden off and transplant outdoors after last frost. Pinching not necessary.
Care:
Cerinthe is an easy to grow, low maintenance addition to the garden. For cut flowers, harvest mature stems, and sear stem ends in boiling water for 7-10 seconds. 65-70 days to maturity.