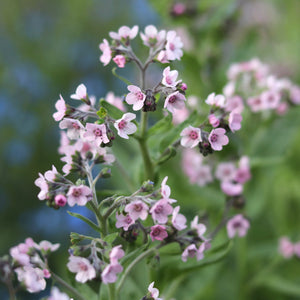 Blooms in the prettiest shade of pale pink, forget-me-nots are a true garden classic. Plants produce a profusion of dainty flowers on long sturdy stems. Beautiful in the mixed border and a delicate addition to bouquets. A favourite of pollinators.     
Plant type: annual  

Height: 18-24"
Planting depth: 1/4" 
Exposure: full sun 
Plant spacing: 9" 
Approx seeds per packet: 75
How to sow: 

Direct sow seeds as soon as soil can be worked in early spring. Seeds can also be sown indoors 4 weeks before last frost. Harden off seedlings and transplant outdoors after all danger of frost has passed. Seeds require darkness for germination, so ensure that seeds are below the surface of the soil. Pinching is not necessary. 
Care: 

Chinese Forget-Me-Nots will tolerate half shade. Stems are prone to wilting in the heat, so harvest cut flowers in the early morning or late evening. Harvest when half the florets on a stem are open. 75-85 days to maturity.