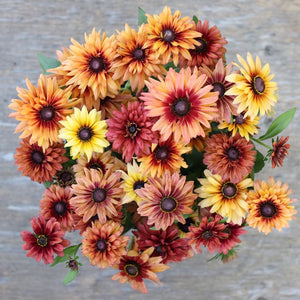 An old fashioned favourite in an updated colour palette of beautiful, rich tones. An excellent choice for the middle of the garden border or mixed into a bouquet. Easy to grow and will produce an abundance of blooms. 
Plant type: annual  

Height: 20-34"
Planting depth: surface sow
Exposure: full sun
Plant spacing: 12" 
Approx seeds per packet: 50
How to sow: 

Sow seeds indoors 8-10 weeks before last frost. Surface sow as light is required for germination. Harden off seedlings and transplant outdoors after last frost. Pinching is not necessary.
Care:

Rudbeckia is a low maintenance garden plant which will tolerate heat, drought, and poor soil conditions. Harvest stems when flowers are fully open as rudbeckia tends to wilt if cut too early. Deadhead for extended bloom production. 100-120 days to maturity.