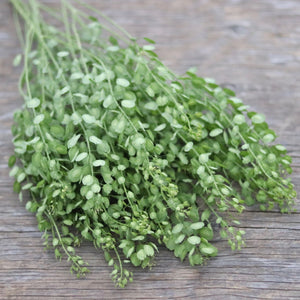 The soft, fresh green colouring of 'Pennycress' make it a perfect accompaniment to most any other flower. Edible and beautiful, cress produces the most charming seed pods on tall, elegant stems. Excellent as a bouquet filler, and a textural addition to floral design.
Plant type: annual  
Height: 30-36"
Planting depth: 1/4"
Exposure: full sun 
Plant spacing: 2-6"  
Approx seeds per packet: 100
How to sow: 

Direct sow in early spring as soon as the soil can be worked. May also be started indoors 4 weeks before last frost. Harden off and transplant outdoors. Pinching not necessary.
Care:

Harvest stems when seed pods have formed. May be used fresh or dried. 50-60 days to maturity.