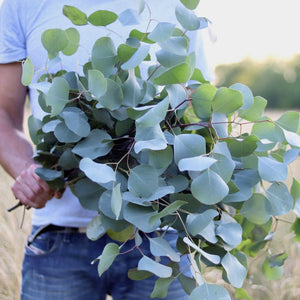 Densely foliated branches in a fresh shade of blue/grey. Foliage is beautifully fragrant and makes an excellent addition to floral design and bouquets. Performs well in containers. Can also be dried and used in winter decor.
Plant type: annual
Height: 36-42"
Planting depth: surface sow 
Exposure: full sun 
Plant spacing: 24"      
Approx seeds per packet: 20
How to sow:
Sow seeds indoors 10-12 weeks before last frost. Do not cover seeds as light is required for germination. Germination can be slow, so patience is required. Pinching is not necessary.
Care:
Harvest branches once the foliage is mature and firm. 120-150 days to maturity.