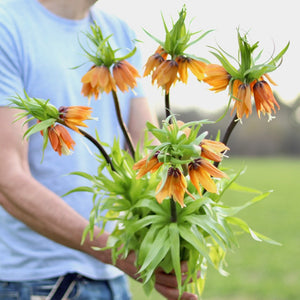 An old world classic, Fritillaria imperialis evokes a nostalgia of historical formal gardens. Strong stems emerge in early spring to be crowned in an impressive cluster of nodding blooms. A very choice addition to the bulb garden and a real statement piece. Enjoy this gem in either the garden or the vase.   
Height: 24 - 30" 
Exposure: Full sun to partial shade
Hardiness zone: zone 5 
Package contains 1 bulb.
Care: Fritillaria require excellent drainage. If your soil isn't well-draining, adding a small amount of grit to the bottom of the planting hole will help. Plant bulbs 5 - 6" deep. Fritillaria bulbs typically have a hole in the top centre. While this may appear unusual, it is completely normal, and is from where last year's flower stem grew. After flowering, allow the foliage to mature naturally as this will allow the bulb to build up the energy for the following year's flower. For cut flowers, leave 50% of the foliage behind to ensure flowering the following year. The bulb will be dormant once again by midsummer and will prefer to stay dry.      
Please note that due to export restrictions, we are unable to ship fritillaria bulbs outside of Canada.