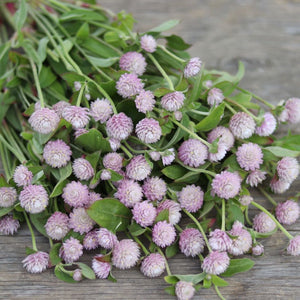 Dainty soft-pink blooms are produced in profusion on well branching plants. Globe amaranth is a country garden favourite. A useful flower for bouquets and floral arrangements. May also be used dried.
Plant type: annual
Height: 24-30"
Planting depth: 1/8"
Exposure: full sun 
Plant spacing: 6-9"      
Approx seeds per packet: 100
How to sow:
Sow indoors 4-6 weeks before last frost. Cover seeds lightly. Harden off and transplant outdoors after last frost. Pinching is not necessary.
Care:
Globe amaranth is an easy to grow, heat loving annual. Blooms have an excellent vase life. Hang bunches upside-down for dried blooms. 85-100 days to maturity.