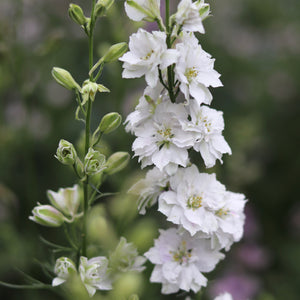 Palest blooms in a smokey off-white with hints lavender. An old fashioned favourite, popular in cottage style gardens. Flowers lend a light and airy feeling to the back of the garden border. Excellent as a fresh or dried cut flower. 
Plant type: annual 

Height: 36-48"
Planting depth: 1/4" 
Exposure: full sun 
Plant spacing: 6" 
Approx seeds per packet: 100
How to sow: 

Direct sowing into the garden is highly recommended as plants do not transplant well. Sow as soon as the soil can be worked in early spring. May also be direct sown in the autumn and overwintered for flowers the following season. Darkness is required for germination. Refrigerate seeds for one week to improve germination. Pinching is not necessary. 
Care: 

Autumn sowing tends to produce earlier, more robust flowering. Sow in the autumn and again in early spring for a perfect succession of blooms. Harvest cut flowers when lower 1/3 of the flowers on a stem have opened. Taller plants will benefit from support. 90-100 days to maturity.