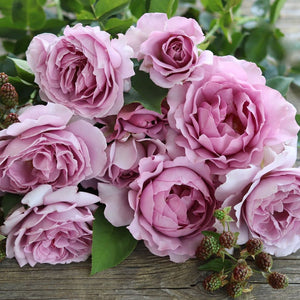 'Love Song' produces one of the largest blooms we have ever grown. The old fashioned blooms begin as a sumptuous shade of lavender and open to reveal a rose packed full of mauve petals. This rose will undoubtedly lend an air of romance to the garden or vase. The vigorous shrubs produce blooms with an incredible regularity throughout the season.   
Classification: Floribunda
Height: 2.5' - 3'
Exposure: full sun
Hardiness zone: 5 with winter protection
Roses are shipped bare root and in a dormant state. Refer to planting guide for instructions.
Please note, we kindly ask for a minimum purchase of 2 roses per order, in any combination of varieties. This will help us offset the increased cost of shipping rose bushes. 
Due to export restrictions, we are unable to ship roses outside of Canada.