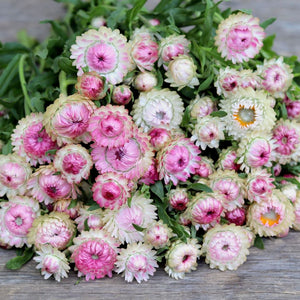 An old fashioned favourite in a beautiful range of colours from white to pink. The petals have a pearlescent sheen, reminiscent of vintage mother of pearl. Strawflowers are productive and easy to grow.  Excellent in the mixed garden border and a long lasting cut flower. Can be used fresh or dried.
Plant type: annual  

Height: 36-42"
Planting depth: surface sow
Exposure: full sun
Plant spacing: 9-12" 
Approx seeds per packet: 50
How to sow: 

Sow seeds indoors 4-6 weeks before last frost. Surface sow as light is required for germination. Harden off seedlings and transplant outdoors after last frost. Pinching is not necessary.
Care:

Strawflowers are low maintenance and will tolerate heat and drought. For died flowers, harvest when blooms are half way open and hang upside down until firm. 75-85 days to maturity.