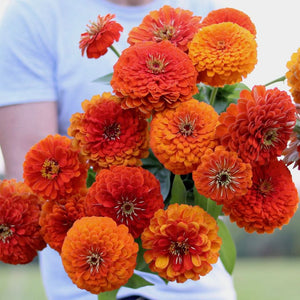 Large blooms in a rich orange. An old fashioned classic in an updated colour. Vigorous plants produce flowers from mid-summer to frost. A beautiful addition to the garden or vase. A favourite of pollinators.  
Plant type: annual 

Height: 30-36" 
Planting depth: 1/4" 
Exposure: full sun 
Plant spacing: 9-12" 
Approx seeds per packet: 50
How to sow: 

Sow seeds indoors 4 weeks before last frost. Maintain warm temperatures for improved germination. Harden off seedlings and transplant outdoors after last frost. May also be direct seeded once soil has warmed up. Pinch seedlings when 8" tall. 
Care: 

Zinnias are easy to grow and are tolerant of heat and drought. For cut flowers, harvest opened blooms once the stems have stiffened. Deadhead for continuous blooms. 75-90 days to maturity.